Anti-Profit: Independent Publishing in London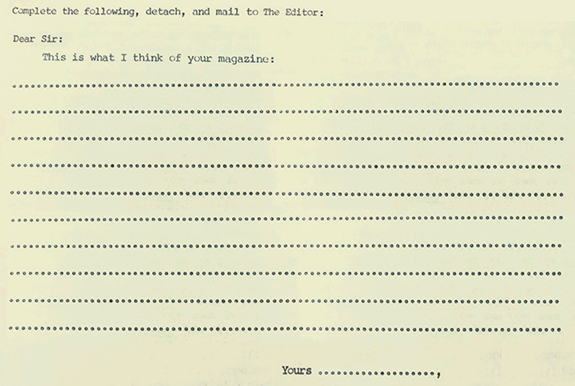 Editor Feedback form, 20 Cents Magazine, Volume 4, No. 1, January, 1970
In the summer of 1969, the editors of 20 Cents Magazine, an independent art publication from London, Ontario, used the term "anti-profit" to describe both their endeavour and the perpetual challenge of their work.
"Low-budget" is a familiar adjective within artist-run culture: a constant limiting factor, strategy, difficulty, or emancipatory qualifier (depending on the day). Anti-profit: Independent Publishing in London explored the histories and current trajectories of independent arts and literary publishing by considering how and why small art presses wrangle with this seemingly perpetual precarity.
The exhibition included a large selection of facsimile pages from historical and contemporary London publications, and visitors were encouraged to assemble their own takeaway exhibition catalogues. The McIntosh Gallery's Curatorial Study Centre Collection acquired and displayed many new titles from contemporary London artists/publishers in tandem with the exhibition.
This exhibition was also made possible thanks to the staff of Western Archives and Special Collections, the What Wave Archives, generous conversations with Brian Lambert, Mike Niederman, Dave and Rena O'Halloran, Charles "Chaz" Vincent, Scott Bentley, Danie Brock, Stan Dragland, Chris Gehman, Penn Kemp, Hilary Bates Neary, Jill Robinson, Doug Rogers, and Ken Steele.